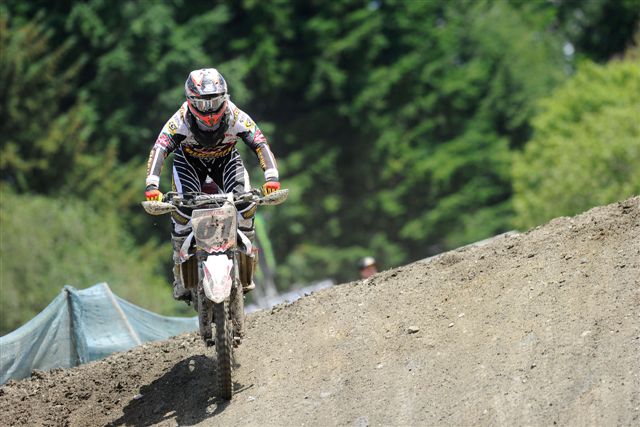 Shaun Simpson vince l'ultima prova del Campionato Belga Motocross
Pieve a Nievole (PT), 23 settembre 2013 – Shaun Simpson of the JK SKS Gebben Racing Yamaha Team finished second overall in the final Belgian Championship round in Pierreux.Il britannico Shaun Simpson del JK SKS Gebben Racing Team Yamaha, ha finito la stagione del campionato belga motocross MX1 vincendo l'ultima prova della stagione corsa a Lichtenvoorde.In the first moto he was riding a consistent race and with a strong end of the moto he finished the race in second position. Nella prima manche è stato perfetto e ha concluso vittorioso la frazione davanti al gruppo degli agguerriti inseguitori. Nella seconda manche per qualche errore Simpson non è riuscito a superare il vincitore Bobryshev. Nel computo finale di questa bella giornata di gare, il forte pilota britannico ha chiuso sul gradino più alto del podio chiudendo così un finale di stagione individuale al top dopo la bellissima affermazione ottenuta anche all'ultima prova del mondiale Motocross MX1 a Lierop lo scorso 8 settembre.
Nel complesso in campionato Shaun ha condotto una stagione stupenda, assistito nella fase finale da una squadra competente e seria che ha messo il britannico nelle condizioni di poter migliorare il rendimento e portare a termine il torneo con una fantastica vittoria che gli è valsa il secondo posto finale nel Dutch Open Championship Series.
Ora l'impegno è rivolto tutto al Monster Energy Germany di Teutschenthal dove il prossimo fine settimana è di scena il FIM Motocross of Nations, nel quale Shaun (classe Open-Yamaha JK SKS Gebben Racing) è stato chiamato a rappresentare la sua nazione insieme ai suoi due compagni Tommy Searle (cl. MX1) e Jake Nicholls (cl. MX2).At the days prior to the race it was raining from time to time.
Nella foto: Shaun Simpson (#24)